Nestled in the rolling hills of Tennessee's oldest town, Jonesborough, are 5 charming acres for you to relax, recharge, and wander the many creative outdoor spaces of Linnaea Gardens.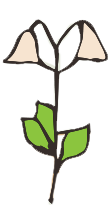 About Us
Located only 4 miles from Jonesborough's historic downtown, Linnaea Gardens offers many services and products that allow you to have a cherished and memorable experience.
While staying at our guest house, make yourself at home with any of the many on property amenities.  Sit, relax, and breathe in the country air on one of our picturesque porches.  Take a stroll through our tropical plant greenhouse or one of the many flower gardens, nap on the hammock, pick blueberries in season, or enjoy a fire circle at dusk.  The large open fields invite games of frisbee, horseshoes, or kite flying.
If you need a unique, colorful, and accommodating location to host an event, Linnaea Gardens is particularly suitable for weddings, reunions, and retreats.  We offer a variety of on-property sites for any celebration large or small.